As I reflect on what I am grateful for this past year and what I look forward in the coming year…both answers are the same. It's YOU!!!

Thank you for everything you are working on with me and with my team. Thank you for your patience, guidance and expertise. We are energized and really excited about transforming the work of the Foundation with you.

With my best wishes that this year ahead is great for us all…together!
— Jane Albert
Vice President of Development, Baystate Health
Executive Director, Baystate Health Foundation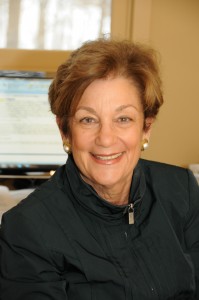 Deborah Kaplan Polivy uses her experience and expertise to help not for profit organizations succeed at raising money in support of their programs. She uses the model described in her books, The Donor Lifecycle Map: A Model for Fundraising Success (Charity Channel Press, 2017) and Donor Cultivation and the Donor Lifecycle Map: A New Framework for Fundraising (Wiley, 2014), to train staff and volunteers to think about the entire development schematic and implement feasible fundraising plans. She leads workshops on fundraising tools and techniques, managing change within development departments, and building strong and passionate boards who will share in the enterprise both as donors and decision makers. Dr. Polivy is particularly skilled in the creation of endowment programs and teaching individuals how these differ from but are connected to annual and capital initiatives and what is necessary to make them successful.
Deborah began her professional career at Allied Jewish Community Services in Montreal, Quebec and since then helped establish two Jewish Federation foundations and also served as the Director of Total Financial Resource Development for the New Haven Federation. She was the Director of Development at Goodspeed Musicals, the originator of Annie. She served as a major gift and endowment consultant for Connecticut Public Broadcasting as well as Research Associate at Yale University's Program on Nonprofit Organizations where her studies focused on workplace giving. She has done training across the United States for NeighborWorks America and in Israel where she has spoken about development in numerous venues including master's programs in leadership at Ben Gurion University of the Negev and the Paul Baerwald School of Social Work at Hebrew University.
Deborah has taught at McGill University, Smith and Trinity colleges, and has published numerous articles on fundraising and the not for profit sector. Her doctoral degree is from The Heller School for Social Policy and Management at Brandeis University where she proudly serves on the Board of Overseers.